Digital Curation: An essential skill for Teacher Librarians
The Teacher Librarian as a digital curator
The teacher librarian is an important partner for teachers who are designing inquiry units. In fact, a teacher librarian who has digital curation knowledge and skills is an incredible asset to a school community in resourcing new Australian Curriculum. Before students launch into searching Google independently, why not provide them with a carefully selected collection of the most relevant, quality digital resources on their specific topic or theme via a curated portal. In other words, they are provided with a portal that encourages guided search and discovery to support knowledge building.
Digital curation is not, however, just about collecting links. It is more about contextualising a specific collection and providing annotations that highlight those aspects of each resource that can contribute to other's understanding of the particular topic or theme. This is where the 'curator' adds value.
Developing a digital curation toolkit
Some teacher librarians are already harnessing the power of digital curation tools. These include:
Scoop.it!
Pinterest
Storify
Bundlr
Learnist
Listly
Digital curators often use Twitter, Facebook, and news aggregators such as Feedly, Flipboard and Stumble Upon to discover newly published content. Twitter, Facebook, Google+ and LinkedIn can be used to publicise and share one's curation efforts. Others use curation plug-ins or widgets to directly publish curated content onto a blog such as WordPress  or Tumblr.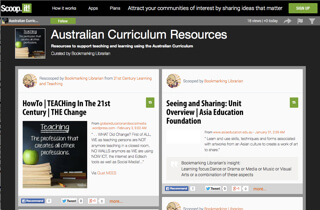 Screenshot of 'Australian Curriculum Resources' Scoop.it by Bookmarking Librarian at www.scoop.it/t/australian-curriculum-resources
How do I get started?
Here's a few tips on how to get started as a digital curator:
search a range of digital curation platforms for existing collections
identify 'good', 'expert' curators to follow
become familiar with the features of a core set of tools to support curation practices – don't spread yourself too thin
create links to existing collections of other curators that 'match' your school's needs – don't reinvent the wheel
be targeted – identify niche areas (or gaps) of the Australian Curriculum where your school needs considerable resourcing – seek quality, relevance and currency

remember – what you leave out is just as important as what you leave in!
be sure to add value to your curation – annotations and tagging are essential
make curation part of your daily practice but be sure to 'contain' your investment of time
share – make your curated collections publicly available for others to use